So I notice that both Nokia's Internet Radio Broadcaster (http://irbcast.nokia.com) and Tunein Radio's (TuneIn) new station submission and stream update interfaces appear to have been broken for at least a month now. I reported the problem to both directories pretty soon after I noticed and received the following quite terse reply from Tunein.com and nothing at all from Nokia.
Tunein.com's reply:
—
Hello Hugh,
Thanks for letting us know. We'll look into it right now.
Sincerely,
Michelle
TuneIn
—
I've been wondering about the fate of Nokia's directory in the face of the company's financial woes for a while now and I hope this isn't related to their recent acquisition by Microsoft who have their own radio directory and media policy.
However I believe Tunein.com just received a large injection of cash so I believe whatever is going on there is a different nature. I did notice their issues started after a recent user interface update…
From Tunein.com's blog:
—
It's a big day for TuneIn. Today, we announced that we raised a $25 million round of funding led by Institutional Venture Partners (IVP), with participation from our existing business partners Sequoia Capital, Google Ventures, and General Catalyst Partners. We also announced we have surpassed one billion listening hours in the first four months of 2013, with over 227 million listening sessions in the month of March alone, making us the world's number one source for live, online radio.
We've Got News!

—
Regardless the problems I've seen on both are as follows:
On tunein.com whether you try to update the summary of an existing stream or submit a new one you receive a pop-up with no visible text even if you try to did dig into the underlying HTML, also I notice the categories fields which normally update automatically no longer work.
On Nokia's Internet Radio Broadcasters whether you try to update or submit a new stream in the administration page the following message appears saying "Please select up to 3 genres!"
I've also tested both problems in Internet Explorer 10 (including compatibility mode), Firefox 24.0 and Chrome but it's the same across all three browsers.
Regardless if you know more or work for either company and would like to make a statement I would love to hear from you…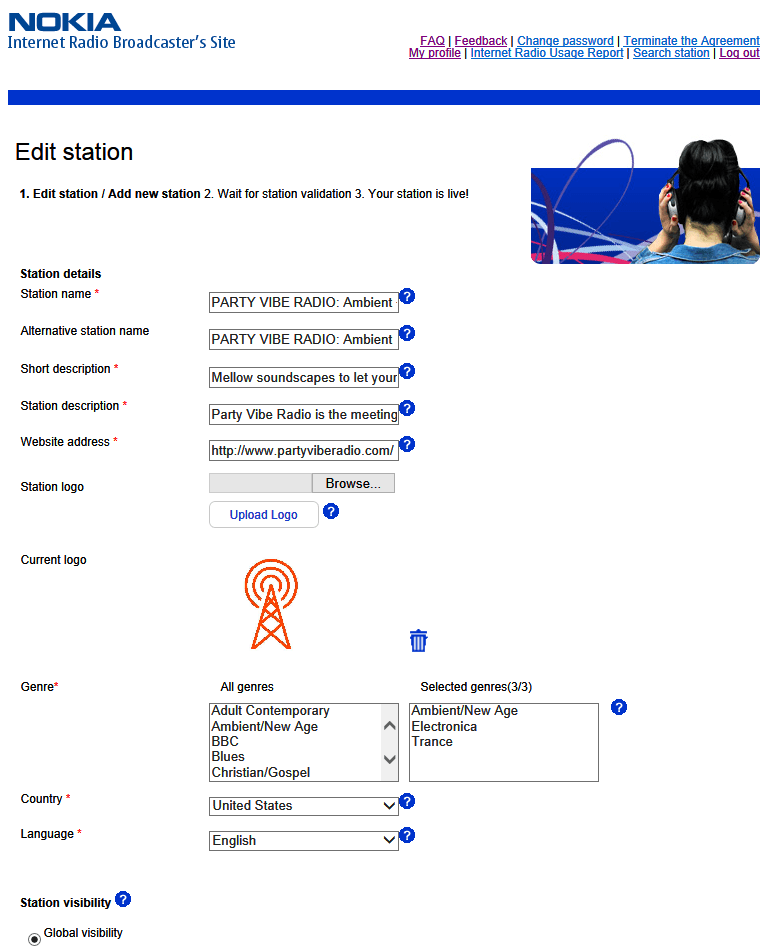 Updated 12.10.2013
Subsequent testing has shown the error on Nokia Internet Radio Broadcaster has changed to "An Error Has Occured" as shown in the screenshot below…
I've also had a reply from Tunein.com whom I've asked for comment…
Dr Bunsen – 06-10-2013 01:31
So I just went and tested both again. Tunein.com still isn't working but Nokia Broadcaster is behaving differently. The category error no longer appears, instead you get to a new page stating "an error has occured".
!sinner69! – 06-10-2013 04:09
I did brief test on nokia radio app and we are online…:)
Dr Bunsen – 06-10-2013 08:00
Thanks for checking Sinner. I haven't had one of their phones for years. I really I should buy a Nokia handset and an iphone from ebay without a SIM card for testing things like iTunes Radio.
Dr Bunsen – 08-10-2013 20:39
I'm still not seeing any sign of either Tunein.com or Nokia"s problem being fixed.
General Lighting – 08-10-2013 21:00
I've got VFR Europe listed on tune in but curiously a request for a minor change to the description was refused, even though my involvement with this station, PVR and ICR-FM (which I also updated on tunein) are easily verifiable by a simple Google Search. I think there are very few human staff at either organisation, they are based in a nation outside the EU or USA and might even be the same subcontractor (its odd the same sort of error would appear on services run by two totally different organisations one in Europe and the other in the USA/Canada!
I suspect most of the money simplyu goes on bandwidth costs to keep the service running and deals with mobile network operators and device manufacturers (which also do some very odd things to streaming media from independently run servers!) whilst they wrestle with the various legal and political issues – a lot of conventional broadcasters (both commercial and public service) and Communications Ministries are very concerned that anyone from any country can now broadcast whatever content they please into their land but the Communications Ministries derive much more of their revenue from mobile companies than traditional broadcasters!
However I can't work out myself how either these services generate revenue as they are not directly displaying ads on the device screens (at least not in the UK or EU though I've heard they might do in other nations). Until Tunein appeared there was another one (whose name I forget) which was the only way I could listen to PVR on a blackberry, and the selection of ads you got were quite bizzare…
The whole broadcast industry is being turned on its head at the same time various major economic and political changes are happening worldwide.
Dr Bunsen – 11-10-2013 02:53
Submitting changes and updates to Tunein.com can be something of a dark art at times. My feeling is there are human reviewers behind the scenes vetting requests. Genre and titles seem to be sensitive choices however where although you can select many categorizes submissions are often declined with no explanation given (a shame because more feedback would be helpful to the process and save them a lot of time in the long run I think).
In terms of responsiveness James the owner of Internet-Radio.com is easily the quickest with his email and most helpful by far. After that I find the staff at Apple iTunes to be responsive and very friendly, although I've seen that change a little recently which may be about the launch of iTunes Radio keeping them all very busy. The staff at Tunein.com are helpful but replies can sometimes a long time coming. Having said that I'm unaware of any direct means of contact with staff at Nokia Internet Radio Broadcaster other than a feedback form which I've never had a reply to.
Dr Bunsen – 11-10-2013 03:41
Oh, I should mention that I asked Tunein.com directly for a comment on the subject of this blog post a couple of days ago.
!sinner69! – 11-10-2013 06:28
Our logo at the Nokia internet-radio app have mostly changed to red on white but the best one is Breakbeat + bass station…that is red on black. I cannot see the new rock station though.
search on party vibe( partyvibe gives no result);
list (as I see it in the landscape window without the – ):
– ALL: PARTY VIBE RADIO
– Ambient + Chill Out
Mellow soundscapes to let your mind be free
– Breakbeat
From hardcore to nuskool breaks
– Breakbeat + Bass (black logo)
Party Vibe Radio is a meeting place for party people!
– Classic House + Oldskool ra…(you should try to use shorter headings…)
Hardcore will never die…
– Dubstep + Grime + Bass
Dubstep Music
– Hardcore + Acid Techno +…
Hard tunes for the hardcore!
– House + Techno + Trance
For all you house and techno heads out there
– POP & RnB
Party Vibe Radio is a meeting place for party people!
– Psychedelic Trance
Playing the best in psytrance music.
– Reggae + Roots + Dancehal…
The choice for reggae lovers, from comtemporary to classic r…. (another too long line…+ a type error comtemporary > contemporary )
!sinner69! – 11-10-2013 06:54
Ehh the red on white is the best in the widget(mini-player)…so you should look way from my comment as best…
Dr Bunsen – 11-10-2013 22:36
Do you think we should stop using the logo altogether?
Dr Bunsen – 11-10-2013 22:39
There was a similar issue with Tunein.com actually, my testing showed the orange on white logo worked best for their web site but didn't look in their Android app. I should revisit this…
!sinner69! – 13-10-2013 18:05
Logo wise I would use the same but white on bezel grey or black on light bezel grey if thats possible.
Dr Bunsen – 15-10-2013 10:14
I've had a look at tunein.com again. The white and orange logo works in both their web and android players.
Dr Bunsen – 17-10-2013 11:29
The Nokia Internet Radio Broadcaster interface problems have been fixed. I'm updating our streams now.
Dr Bunsen – 17-11-2013 22:19
About a week after my last post tunein.com had fixed their issues. More than a month after I submitted new feedback to Nokia's station update and submissions interface still isn't however.