The following album and single by Mighty Mistic are now being promoted on our reggae music internet radio station.
Send us your music promos for free airtime.
—
CALI GREEN By:Mighty Mystic
Check out MIGHTY MYSTIC'S new release CALI GREEN. This one goes out to all the MARIJUANA SMOKERS out there!
MIGHTY MYSTIC
CONCRETE WORLD album
Coming
JAN 28th 2014
VP Records Music Group/VPAL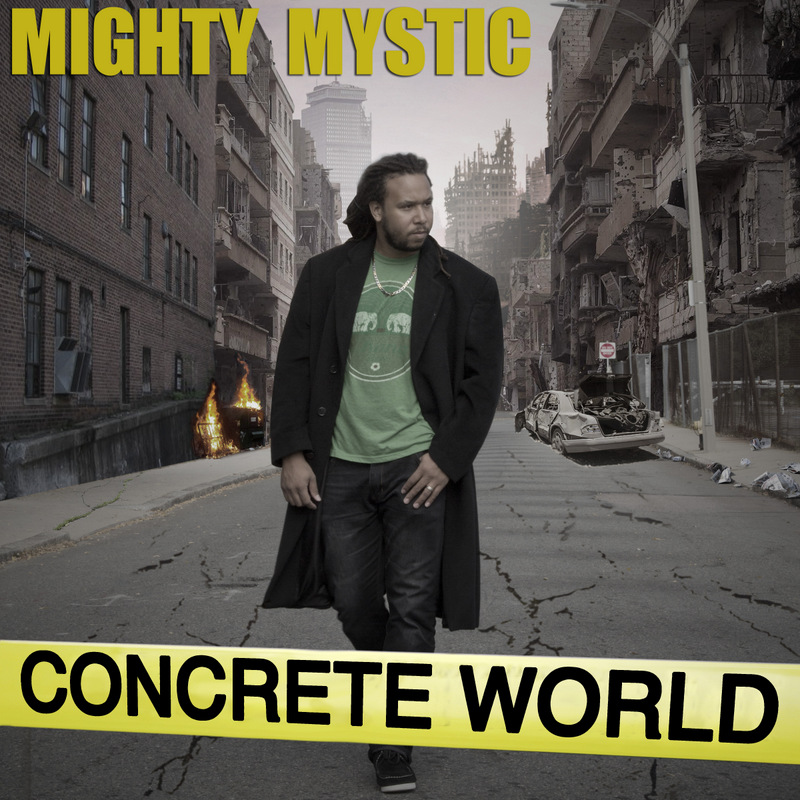 On Jan 28th 2014 Reggae sensation Mighty Mystic will release his highly anticipated sophomore album CONCRETE WORLD on iTUNES, AMAZON & everywhere music is sold digitally via VP Records Music Group/VPAL. It has been nearly 4 years since Mighty Mystic released his break out album Wake up the World to an overwhelming response and by the looks of things this new project is no different.
Mighty Mystic hopped on the scene in 2006 after scoring his first international hit with song "Riding on the Clouds". He has since gone from being a fan of reggae music, to being a contributor to the art garnering him the title as one of the leaders in the U.S reggae movement. His brand of reggae which he emphatically calls "HARD ROOTS" has taken the music scene by storm. It is this unique spin (hard roots) on classic reggae that has catapulted him to the forefront of today's Reggae Revival. Be on the look out for his CONCRETE WORLD album coming this Jan 28th. Though early the album has the makings and momentum to be a classic for the genre.
"Based overseas, Jamaica-born reggae artiste Mighty Mystic is already considered one of the leaders in the United States of America's (USA) East Coast reggae movement.
Aiming to inscribe his name among the reggae greats…" — Davina Henry: Jamaica Gleaner
Concrete World album is packed with 14 tracks with Guest appearances from:Stephen Thunder & Michael Charles
Production From: The legendary Tony "CD" Kelly, Stephen Thunder, Mike Cip, the Thunder Band, Jourdan Orvosh & Chance One
Fun Fact: Mighty Mystic is the younger brother to former Jamaican Prime Minister Andrew Holness.
—-
DAMIAN "Jr. Gong" MARLEY ****NEW TRACK*** Is It Worth It? (Gun Man World)
Ahead of his performance at Jamaica's Rebel Salute festival in tonight, Boomshots brings us this brand new track from Damian Marley called "Is It Worth It? (Gun Man World)". Much like his daddy, Jr. Gong is never one to shy away from the issues at hand — in this case, the gunman life. Picking apart everything from family matters to finances, Gongzilla challenges so-called gangsters with a simple yet powerful question, "is it worth it?"
Speaking of Rebel Salute, our very own Mikey Fresh will be living it up at the festival this weekend. You're damn right we're jealous.
—-
MIGHTY MYSTIC – CONCRETE WORLD
Produced by: Stephen Thunder
New Single: "Concrete World" – Out Now!!!
"Concrete World" Album Coming Soon!!!
"Think of God as a great ocean…
Though we all might take different streams and rivers to get to him we're all essentially going to the same place."
Mighty Mystic
Mighty Mystic – Home
www.facebook.com/themightymystic
—-
RAGE: FALSE PRETENSE
Newcomer Rage is set to release his latest single False Pretense on January 14. Rage whose real name is Rickardo Dinham is based in New York. He is originally from the Kintyre area of Papine in St. Andrew.
False Pretense is produced by Adrian 'Donsome' Hanson for Donsome Records. This isn't the first time that Rage has worked with the New York based Donsome Records. He was featured on the fledging label's Reggae Grass Roots Vol. 1, Reggae in My Heart and Reggae Fruits and Roots Vol. 1 compilations.
—-
Royal Soul Rockaz featuring King Mas & Blaq: Hold on We're going Home (Reggae Remix).
This is a movement bringing the royal music known as REGGAE into a crash course collision with R&B/Soul like never before.
The "Royal Soul Rockaz" band is a US (Boston, Massachusetts) based group of musicians consisting of rising reggae star King MAS who has risen with the help of Nature's Way Entertainment, based in Miami, to become one of the most promising young reggae acts in recent years.
Berklee College of Music graduate Brian "Blaq" Gordon out of Jamaica is an established artist and producer in his own right with a multifaceted approach to music production and an ability to play multiple instruments masterfully.
Dalton "Heavyton" Harts out of Kansas, also Berklee trained, is an accomplished drummer with a diverse range of musical influences and a keen ear for musical arrangements.