OXFORDSHIRE CIRCLES OF 1996
Asbury, Nr Swindon, Wilshire. Reported 14th August.
The String of Pearls.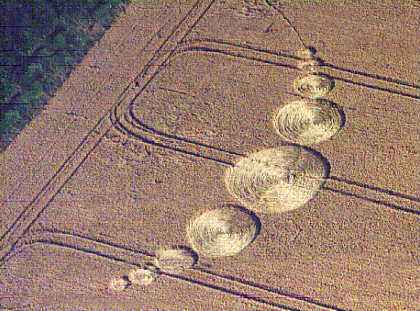 Image by Lucy Pringle. Copyright 1996.
Dimensions/Swirl:
Central Circle: 41' (CW)

Going left from top to outside
30' (CW), 17ft (CW), 10.5' (CW), 7' (CW)

Going right from top to outside
28.5' (CW), 16' (CW), 11' (CW), 7' (CW)

---
Diagram by Peter R. Sorensen . Copyright 1996.

Discovered August 14th, south of Wayland Smithy Long Barrow, Oxfordshire. It is one field to the east from the Ashbury "Vesica Pisces".

The "String" would appear to be a construction line, such as has been found in the Julia Sets. Either the formation is unfinished, or the circlemakers are flaunting the line, saying, "This is how we work" ! The fact that the centre of the arc would have to be within the trees at the edge of the field, makes the ol` rope trick seems unlikely.

Report by Peter. R. Sorensen.
---
Back to Crops of 1996 Index